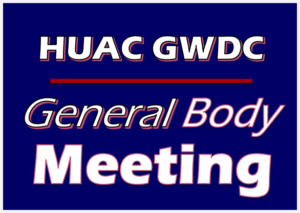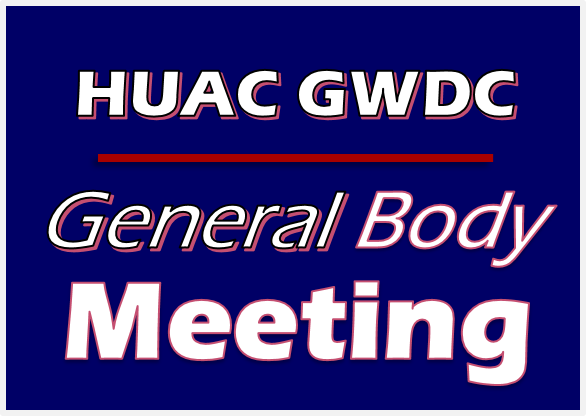 April General Body Meeting
Monday, April 24, 2017, 6:30 PM, Howard University School of Social Work Auditorium
Join HUAC GWDC for the April General Body meeting. The club will recognize the scholarship recipients and elect the 2017 - 2019 Executive Officers. All members are encouraged to attend to participate in the elections.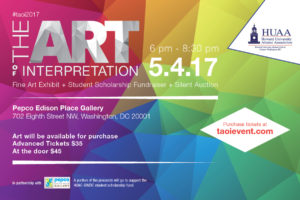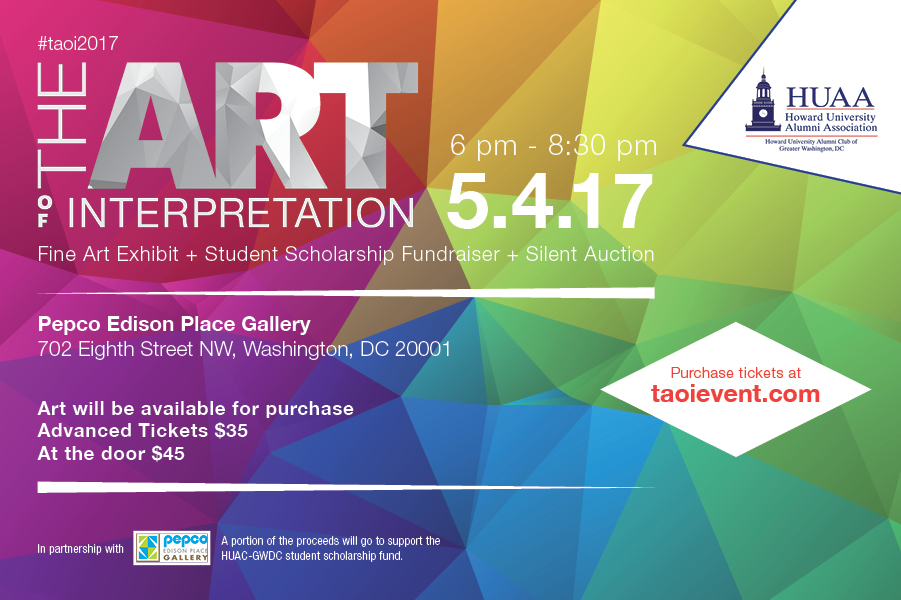 The Art of Interpretation
Thursday, May 4, 2017, 6:00 PM - 8:30 PM, Pepco Edison Place Gallery, 702 8th Street, NW, Washington, DC 20001
The Howard University Alumni Club of Greater Washington DC (HUAC-GWDC) will host The Art of Interpretation, a one-night-only fine art exhibit and fundraiser of which a portion of the proceeds from the ticket and art sales will go to benefit the HUAC-GWDC student scholarship fund.
Purchase tickets at http://www.taoievent.com.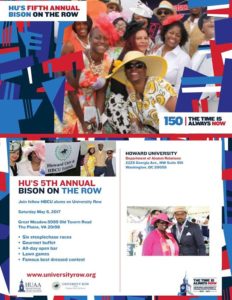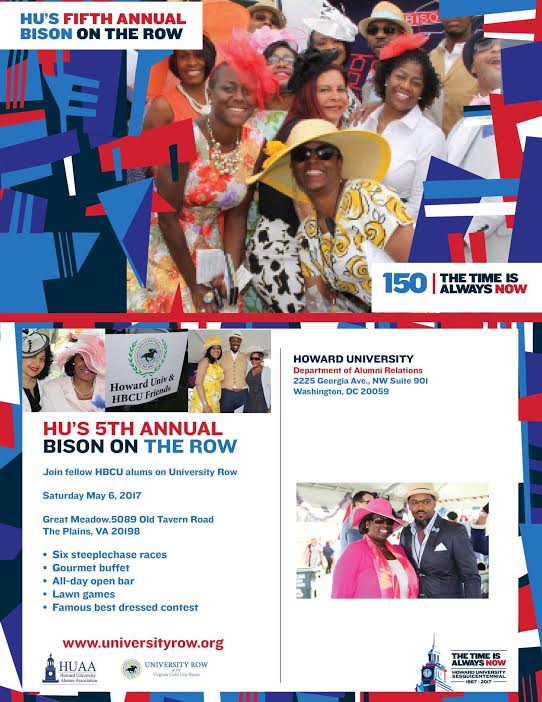 Bison on the Row
Saturday, May 6, 2017, Great Meadow, VA
The Department of Alumni Relations and Howard University Alumni Association Region II are pleased to once again participate in University Row. Howard will be an Anchor Tent! Discount tickets for HU alumni are currently on sale at https://www.showclix.com/ event/HBCUOnTheRow.
Use the discount code HU-TOTSOYN (while supplies last) to purchase your tickets today.
To volunteer please sign up at http://signup.com/go/ qgCDYX .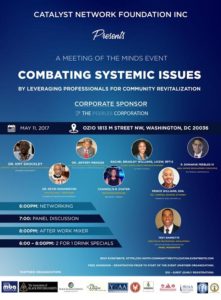 CNF Presents "Combating Systemic Issues in the Urban Community"
Thursday, May 11, 2017, 6:00 PM - 9:00 PM, Ozio Restaurant and Cocktail Lounge, 1813 M Street, NW, Washington, DC
Catalyst Network Foundation, Inc., will hold an afterwork mixer and panel discussion about illuminating the root causes that create the dysfunction in the urban community and identify practical, proven solutions to rectify certain root causes, and controlling the narrative telling our stories. This Meeting of the Minds (MOTM) event will feature many prominent panelists within the community, including Dr. Kmt Shockley, Howard University Professor and Author of "The Miseducation of Black Children." 
RSVP at
Eventbrite: https://dc-motm-communityrevitilization.eventbrite.com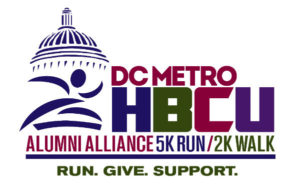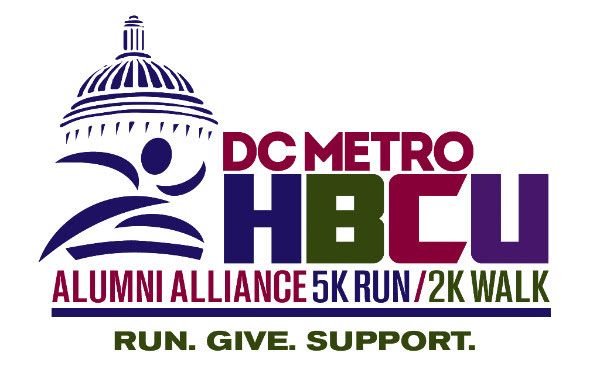 HBCU 5KRun/2KWalk - HBCU Alumni Community Day
Saturday, June 24, 2017, 8:00 AM, Howard University
Join DC Metro HBCU Alumni Alliance at Howard University for the 5th Annual HBCU 5K Run/2K Walk and HBCU Alumni Community Day, Saturday, June 24, 2017. Raising funds to support our HBCUs! Click here to register!