General Body Meeting Schedule
All General Body meetings begin at 7:00 PM (6:30 PM Networking) and are held on the campus of Howard University.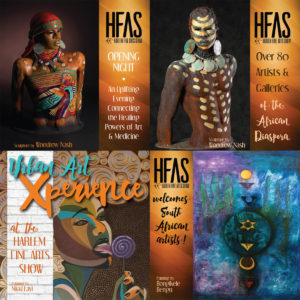 Harlem Fine Arts Show Opening Night DC
Thursday, June 14, 2018, 5:oo PM - 11:00 PM, 101 Constitution Ave, NW
Join HUAC GWDC as we partner with the Harlem Fine Arts Show (HFAS) for an uplifting evening connecting the healing powers of art and medicine. Howard University Alumni Dr. LaSalle Leffall, Jr., will be recognized for his dedication and contributions to the field of medicine.
The evening will feature a salute to African Americans in medicine, art exhibition and sale, VIP reception, live music, hors d'oeuvres, and complimentary cocktails. Garage parking available.
Tickets are $75. A portion of the proceeds will benefit HUAC GWDC fundraising efforts. Click here to purchase tickets.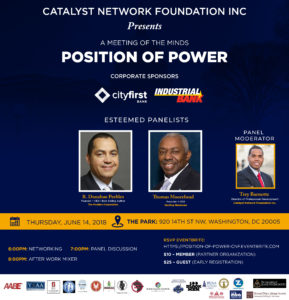 CNF Meeting of the Minds Event: "Position of Power" Featuring Donahue Peebles + Thomas A. Moorehead
Thursday, June 14, 6:00 PM - 9:00 PM, The Park @ 14th, Washington, DC
Join the Catalyst Network Foundation for this Meeting of the Minds event.  Register to attend on Eventbrite or CNF's Facebook page.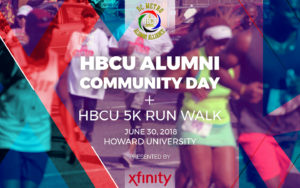 6th Annual HBCU 5k Run/2k Walk and HBCU Alumni Community Day
Saturday, June 30, 2018, 8:00 AM, Howard University
Join local HBCU alumni for the 6th Annual HBCU 5K Run/ 2K Walk at Howard University! WPGC's Joe Clair is the HBCU Alumni Alliance Ambassador. All participants are asked to bring non-perishable food items to help combat hunger in our community and toiletries to help a homeless person in need of every day personal hygiene necessities. Click here for additional information about the event and to register for the race or submit donations.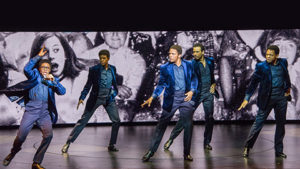 "Ain't Too Proud - The Life and Times of the Temptations" Musical
Sunday, July 1, 2018, 8:00 PM, The John F. Kennedy Center for the Performing Arts
Join HUAC GWDC at the Kennedy Center for the musical "Ain't Too Proud - The Life and Times of the Temptations." Group tickets are available for purchase. Email HowardUAlumniClubGWDC@gmail.com to purchase tickets!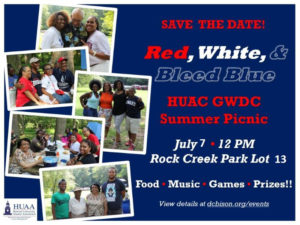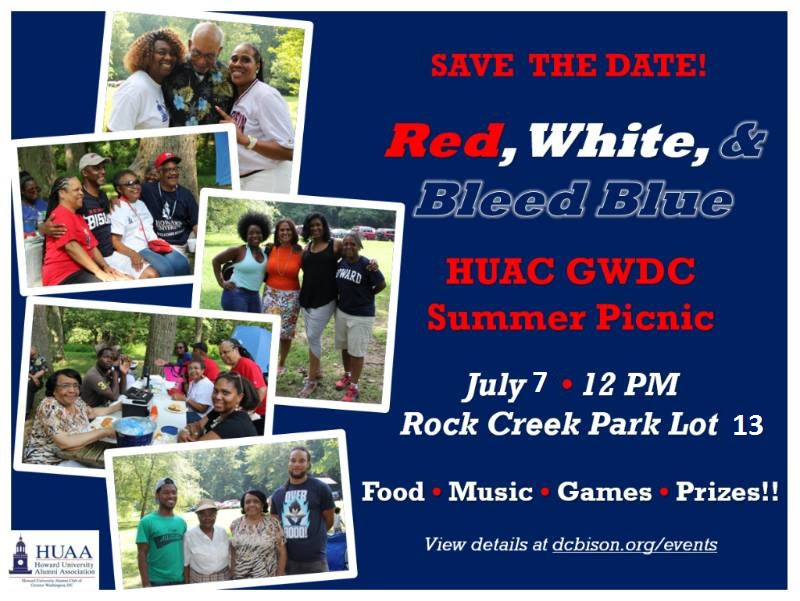 Red, White, and Bleed Blue II: HUAC GWDC Cookout!
Saturday, July 7, 2018, 12:00 PM - Dusk, Rock Creek Park Lot 13
Join us for our annual Alumni Cookout Rock Creek Park! Enjoy the DJ, food, and games. We will award prizes for Legacies (HU parents and their HU children), oldest and youngest graduate, and largest number of alums from each decade. This is also an opportunity to meet and welcome incoming HU freshmen and their families.
Convenient parking and a covered pavilion are available. See you there!