General Body Meeting Schedule 2018 - 2019
All General Body meetings begin at 7:00 PM (6:30 PM Networking) and are held on the campus of Howard University.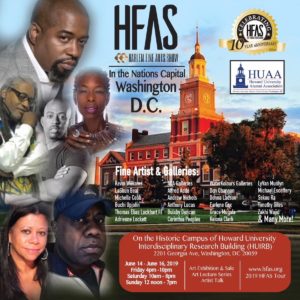 Friday, June 14, 4-8 pm
Saturday, June 15, 10 am-8 pm
Sunday, June 16, 12 noon-7 pm
Location: Interdisciplinary Research Building, 2201 Georgia Ave., WDC
Join HUAC GWDC June 14-16 for the Harlem Fine Arts Show! Purchase art by our featured artists and students. Support Black Art!
Purchase a Raffle Ticket or 3 for a chance to win a cruise for two!
All of the proceeds go toward Student Scholarships.