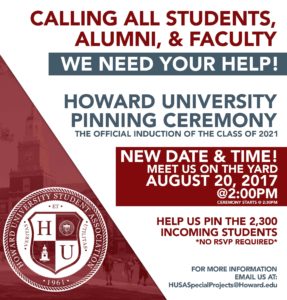 Howard University Class of 2021 Pinning Ceremony
Sunday, August 20, 2017, 2:00 PM, The Yard
Howard University students, alumni, faculty, and staff are encouraged to attend the HU Class of 2021 Pinning Ceremony. RSVP is not required.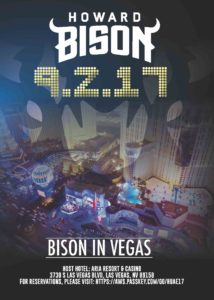 Bison  in Vegas
Saturday, September 2, 2017, Las Vegas, Nevada
Join the #BisoninVegas for the 1st game of the season against UNLV Labor Day weekend. Howard vs. UNLV promo video.
Make your Bison discounted rate hotel reservations at ARIA RESORT & CASINO by visiting: https://aws.passkey.com/go/HUAE17Discount offer based on room availability.
The game will be at Sam Boyd Stadium, 7000 E. Russell Road Las Vegas, NV 89122 on Saturday, September 2, 2017 at 6:00 p.m. Ticketscan be purchased at: http://bit.ly/FBSingle. Tailgating will be from 4:00-6:00 p.m. in the stadium Parking in Lot E.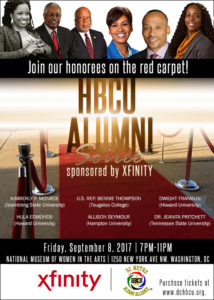 HBCU Alumni Soiree
Friday, September 8, 2017, 7 PM - 11 PM, National Museum of Women in the Arts, Washington, DC
Comcast and the Washington, D.C. Metro HBCU Alumni Alliance, Inc., will celebrate the history and legacy of Historically Black Colleges and Universities and their alumni at the inaugural HBCU Alumni Alliance black-tie gala. Six individuals will be presented with HBCU Alumni Awards, created to honor graduates, including Howard University alumni and HUAC GWDC members:
Dwight Franklin, President & CEO, Professional Management Consulting Services, LLC 
Hula Edmonds, Retired Director of Operations, Mirant
Purchase tickets at: https://www.eventbee.com/v/dchbcuaa/event?eid=141255171#/tickets